---
AUDIO RELEASES
---
All in stock audio releases are featured in the shop.
All titles below are now out of print as compact discs. Digital versions of these OOP compact disc releases are available via the Cached bandcamp.
---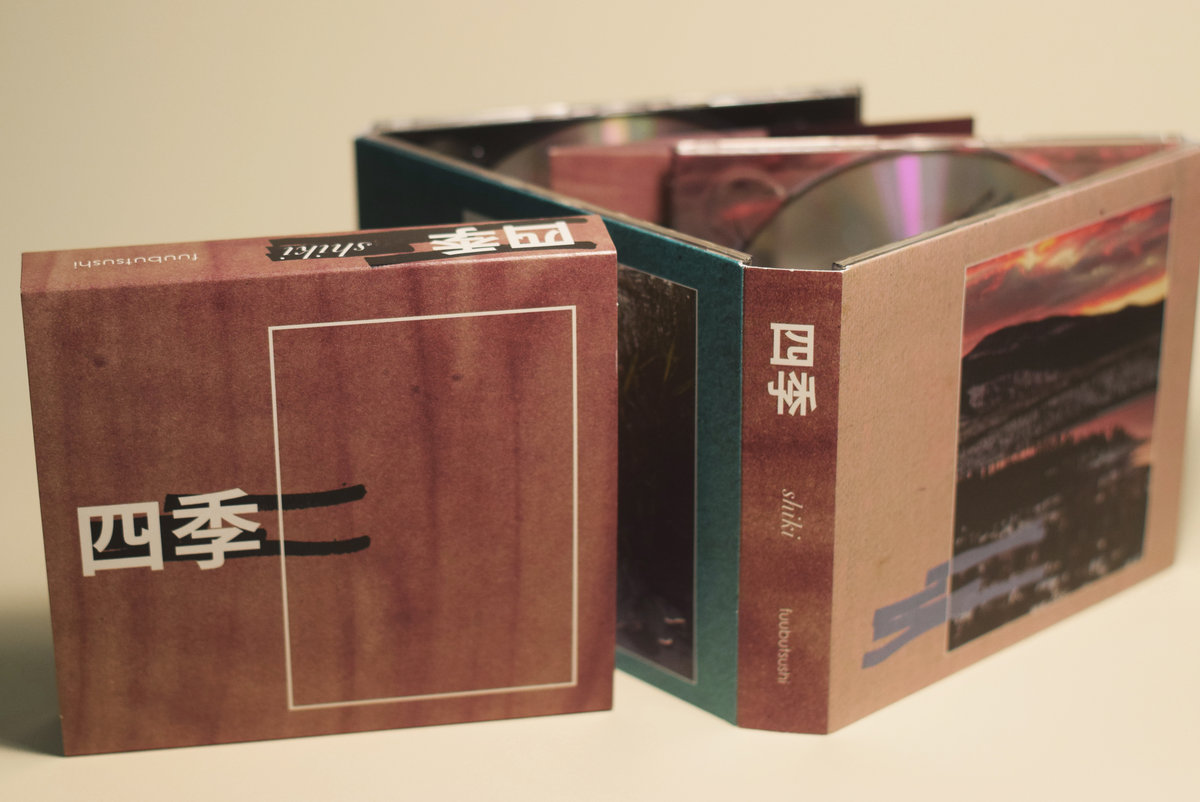 SHIKI - 4xCD Boxset by Fuubutsushi
4xCD
Color booklet
Accordion Digipak
O-card slipcase
A compendium physical/digital release that collects all four seasons/four albums by Fuubutsushi recorded 2020-2021. The physical edition includes 4 CDs in a fold-out digipak housed with a full color booklet in an O-card sleeve.

Combining many genres and elements, Fuubutsushi's catalog is one marked by playful and trusting exploration between four musicians; though each loosely assumes a role -- Jusell on violin, Prymek on guitars, Sage on percussion/keys, Shiroishi on woodwinds -- the group has, in their hallmark year of long-distance collaboration, established a free-form vocabulary. Borrowing idioms from ECM, cool jazz, ambient music, minimalism, city pop, post rock, folk, and Americana, this music thoughtfully roams across landscapes like a wandering cloud. At times it falls into valleys, at times in soars far above the surface, it falls and collects in puddles and lakes, it thaws and runs like rivers, it collects in snow banks and freezes solid.

After receiving critical acclaim and high demand, all four albums are now available in this handsome edition and download.

---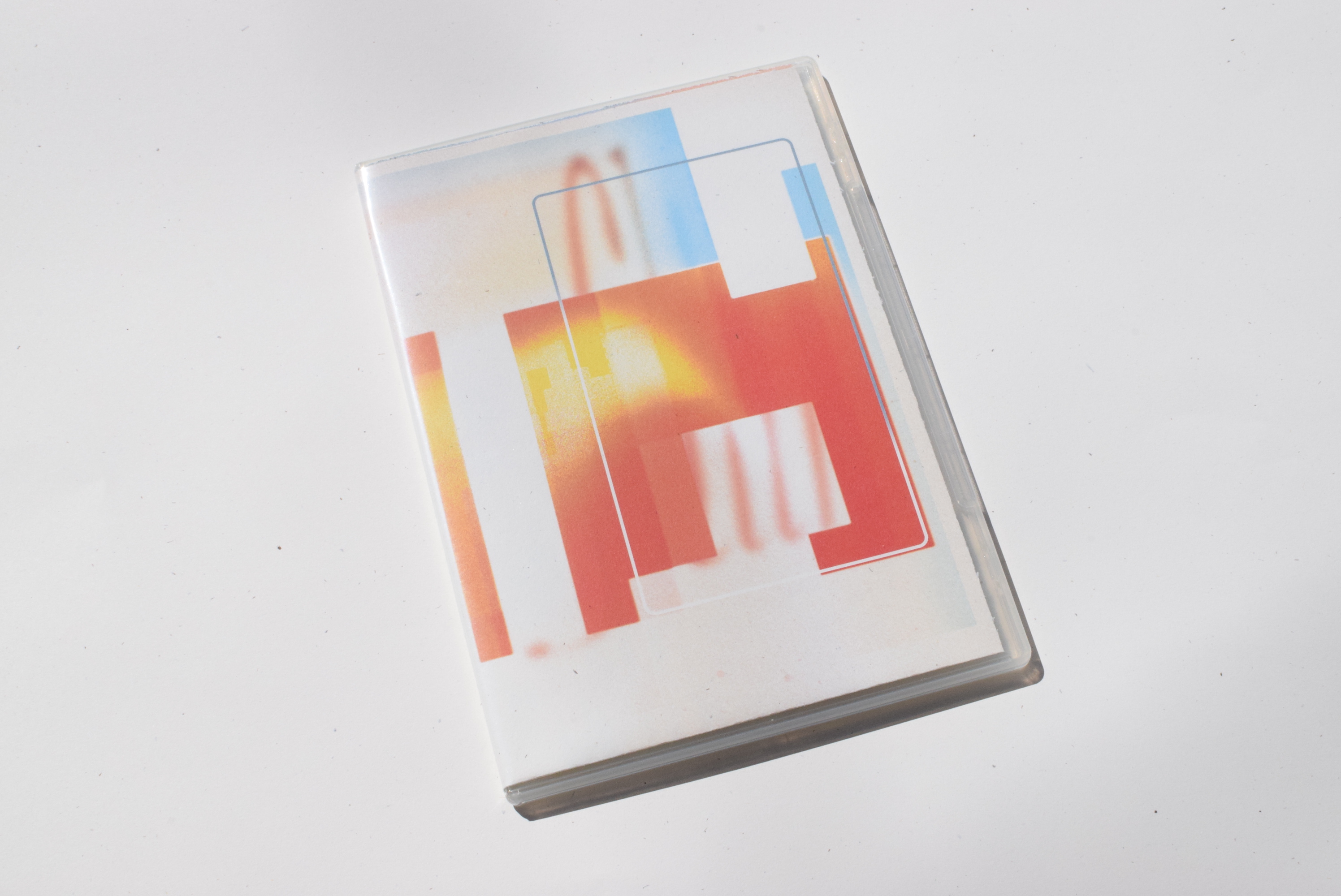 FLITR - non-functioning tangible/digital by Various Artists

Slimline DVD Case
CD-r (blank!)
Two-sided Full Color Insert
Digital Content


Flitr is a research initiative by cached.media:

This project seeks to explore the fleeting and immaterial nature of music and the mounting and tangible confusion of consumer sound objects as they disintegrate into a hypothetical cultural obsolescence.

Recorded sound is a relatively recent invention; before recorded sound music only existed once, in the air, as it moved through time and space. historically, music cannot be held forever on any medium; it's elusive, it's fleeting.

Flitr began as a collection of curated samples, a "data set," provided to artists in an open source fashion. With purchase of the non-functioning tangible you will receive this data set.

Flitr is, in one iteration, a digital musical compilation featuring 36 artists implementing those samples with the optional addition of including their own human voice(s). You will receive a download code corresponding to this digital musical compilation with purchase of the non-functioning tangible.

The physical manifestion of this release is a "non-functioning tangible." It is a trinket, a publication, a totem. It represents music, but it doesn't make any music. It just is... quasi-permanently, unlike the music it represents that disappears after it vibrates the air. This edition of objects is made by assemblage using entirely recycled, repurposed, and renewable materials.
---

HOMAGE - digipak CD by Natural Flavors


Natural Flavors is Charles Lander, Charlie Russell and Grainger Weston. Loosely arranged around keyboards, pianos, guitars, and synthesizers, this group gracefully balances on the wires between pastoral ambient new age and improvised new music jazz. With improvisation at the core of their approach, these players and these songs river and stream across one another sympathetically; they show a respectful awareness towards one another. The air sweet, the light piquant, the landscape savory; the collection is a proprioceptive sojourn where listeners are shuttled, not out of their bodies, but through them, into them, around them. After all, our meat is a generous terrain rippling with restrained electricity and sonorous melody. Ribs positioned elegantly along a fault line where a brainy butte juts up from a deciduous forest, where a guts lake lies buried under a craggy escarpment, where a leggy desert drifts off from the dry edges of a grass plain, these songs are a body and a compelling landscapes that invite roaming.

---
natsukashii - fuubutsushi




Summer hovers, suspended in the air; a humid dance of light and heat and the longest days of the year. A fond memory of the present as the mercury rises. In the final entry into the seasonal series by Fuubutsushi -- Chris Jusell, Chaz Prymek, Matthew Sage, and Patrick Shiroishi -- nostalgia basks under a tree, naps on the beach, roams the desert, and ends the evening in a cool rainshower. Natsukashii (懐かしい) -- translating to "nostalgic" -- completes the cycle that this group began with their now eponymous album Fuubutsushi, and it is just that, a highly retrospective collection of songs that captures the same magics that have appeared across the last year of work this group has created. Maintaining their social distancing methodologies, these four musicians have established an approach that has proved highly functional for them in making what has equated to now nearly three and a half hours of music; they have learned how to build songs remotely together. They have honed their sound here, a sound that is many things; comforting, expansive, playful, curious, fun, nostalgic, introspective. Dabbling with many genres (ECM, ambient, jazz, new music, folk, neoclassical, post-rock) to create a sound all their own, this summer album sees the group present some of their most narrative work to date, which is to say, in this summer sound they tell a story.

The first album in the cycle was primarily built on Sage's piano, synth, and percussion, with Shiroishi's horns, Jusell's violins, and Prymek's guitars acting as both support and soloists. Progressively, Prymek, Shiroishi, and now Jusell have brought their own structures to the table for the group to adorn, react to, collaborate on, and interact with. As the group has continued to collaborate, they have become more free with their contributions, and more communal. Each player, in their own distinctive style, lilts, skips, and tumbles through these atmospheres, each their own child-self playing in the afternoon light, or basking, or wondering at the shadows as they dance on the grass. The album showcases the trademark Fuubutsushi group sound; softly bopping and euphoric jazz-tinged structures that feature dazzling violins, cooly interlocking saxophones, and flourishes of guitars, synths, and percussion. The group also continues to stretch out into new territory; this album features their longest composition to date (the eleven-plus minute and 3-part opener "Chopin Park Kite"), as well as vibraphone solos, cinematic ballads, desert psychedelia, and folk-jazz tumbles.

"Nostalgia." A fitting place to end this cycle of albums (and for revisiting the cycle to begin as the Fall comes soon enough). These four players have built, not just a band, but a community for themselves. They've shared milestones -- births, deaths, marriages, moves, hopes, fears -- together during the recording of these 4 albums. But, as it must, here ends their four seasons, left to be looked back upon fondly and looked forward to revisiting as the cycle repeats.

The four members of the group thank everyone who has spent this tumultuous year with this music. The reactions to this project have been truly overwhelming. There will be more from this group in the future… eventually. For now, please enjoy Natsukashii.
Chris Jusell: violin, cello, vibraphone, marimba

Chaz Prymek: bass, guitars, strumstick, field recordings

Matthew Sage: keyboards, percussion, voice, harmonica,
moog matriarch, guitars

Patrick Shiroishi: alto, tenor, and soprano saxophones, clarinet,
glockenspiel, samples, voice, banjo, electronics
Photos by Matthew Sage
---


yamawarau - fuubutsushi







Spring rises from the ground like a spirit full of light and latent pollen. A mountain, laughing, covered in flowers. Yamawarau (山笑う) is the third in a four-part album cycle by Chris Jusell, Chaz Prymek, Matthew Sage, and Patrick Shiroishi… feel free to simply call this group "Fuubutsushi" if you so prefer. What began with their first album, Fuubutsushi, an autumnal ECM jazz suite, led to Setsubun, a warm place to hide from those too-long winter nights. As Spring breaks, the quartet have continued to refine their signature sound, to expand their mutual vocabulary, and to take playful risks together, all while maintaining their social distance.

Prymek's guitar and bass parts serve as the primary core of this collection; his style balances deeply emotive chords and spry flourishes with unique time signatures and spiraling phase patterns. The structure here is the rich soil, once dormant, coming back to life. In response to these structures, Sage's percussion expands into multi-tracked and polyrhythmic territory it hasn't explored before. His piano parts fall to the background, but flourish there, coloring Prymek's melodies. If Prymek's structures are the soil, Sage is the roots that tangle, swirl, and hold the album down. Jusell's violin eddies through the early buds, painting the wind with warmth, light, saturation. Lyrical, dazzling but never showy, pastoral but never campy. Shiroishi does appear with his signature saxophone some, but his vocal presence on several songs, his playful melodica, and his first turn on the guitar, the bossa-nova closer, find him continuing to push the group into new places, like a tree that every year grows into previously unexplored air, atmosphere, currents of wind. This collection feels connected to their previous albums, but also feels different; vocal harmonies appear at the center of several songs, both wordlessly and sung beautifully in Japanese. Though still approximately "jazz" these songs feel more like a kind of campfire circled by the players. They are propulsive in places, meditative in others, often dynamic, but profoundly radiating light.

What has been said before about this quartet remains true: they collectively cultivate a tenderness when playing together. That tenderness comes from patience, from foregrounding a sense of play, from leaving space and from finding joy in the act of creation as a group. Yamawarau is just that, a joy in cultivation, a smile full of new blossoms.
Chris Jusell: violin, voice

Chaz Prymek: guitar, bass, clarinet, synths, samples

Matthew Sage: keyboards, percussion, voice, acoustic guitar, field recordings

Patrick Shiroishi: trombone, guitar, glockenspiel, tenor and alto sax, laptop, samples, voice

photographs by Matthew Sage
---



futurangelics - brin + dntel + more eaze







Brin (Colin Blanton, with releases on Leaving Records), Dntel (aka Jimmy Tamborello, a forebearer of social distance collaboration), and More Eaze (Mari Rubio) present Futurangelics, the next installment in Cached's ongoing social distance collaboration series. The three artists, all pioneering their own versions of forward looking electronic music in their own works, mesh into a seamless, gauzy, and expressive trio here; a mysterious palimpsest of amorphous, curious, introspective, and masterfully arranged sounds and musical motifs. The collection feels cinematic; this term usually connotes something sweeping, grandiose… instead of grandiosity we are shown a film full of subtle emotional negotiation, longing and release, mundane landscapes shrouded in purple night and light pollution. Like laying in bed at 4am thumbing back through a camera roll of blurry photographs from a night out with friends. Warm synth timbers grip onto the surfaces of gravely field recordings and parking lot stripes. Vocoded voices are draped through clattering digital percussion expressions, jittery glitches, and processed acoustic guitar. Modular percolations and warm wide pads color the humid post-meridian scene with burgundy light. Bugs clatter around a street light caught in the radiance of a swirling violin movement and a puff of cigarette smoke.

Futurangelics showcases three musicians, all accomplished and respectively unique, congealing as a trio to create something subdued, but in that subtlety deeply rewarding, almost loyal. It feels familiar, but like a friend that has gone away and finally come back to hang again, full of secrets. A world of lights glaring on the windshield as the car glides through the pre-dawn tenderness. For fans of these respective artists, you will find their signatures (cascading microsamples, enveloping synthesis, misty ambient/pop) peppered throughout, but it is those moments where you can't tell whose hand you're holding that become the most exhilarating. In those mysteries there is a very peculiar and enchanting softness.
Brin
norns, computer, samples, percussion, dexed, vocals, field recordings

Dntel
computer, modular synth, OB-6

More eaze
vocals, computer, modular synth, korg electribe, guitar, violin, field recordings


mixed by More Eaze


mastered by Andrew Weathers


"2 dawn" photo collage by Brin

"night squirrel" photo by Dntel
---


setsubun - fuubutsushi







The season has changed. Chris Jusell, Chaz Prymek, Matthew Sage, and Patrick Shiroishi continue forward with what follows 2020's Fuubutsushi. Here, it is a new year, and it is time to shake the demons off and make a fresh start. Setsubun is the Winter chapter in the cycle (yes, Spring and Summer will come one day), but don't conflate this "winter music" with the holidays; this is music for the stretch between January and the first peals of spring. The days in this chasm that may be getting longer, however slowly, but the nights are still long. The air is crisp. The natural world lays dormant, but the imagination flutters.

These four players have learned more about each other since the amber nostalgia of Fuubutsushi and here they are more comfortable taking risks, ramping up, and pulling back. Prymek's guitar and bass lines offer a fundamental structure on many of the tunes, in his distinct style that is both uniquely folky but patiently soulful. He more often opts for electric guitar, slide, shimmering fingerpicking, and those touches feel like frost in an empty tree canopy. Shiroishi's crystalline voice sets a tone on the first track, but from there, he spends his time painting scenes with his saxophones and clarinet. The departure from his more oblique solo works into harmonious melody in this combination showcases the incredible range and skill he possesses over his instruments. He is your breath on the air. Sage shifts from piano onto rhodes for this album, where he continues to split the difference between ambient minimalism and cool jazz vamping. His drumming takes a new presence here, with more pronounced rhythms, deceptive stutters, playful push and pull dynamics. He is the ice under your feet. Sometimes you almost have to catch yourself from slipping. Jusell's violin continues to soar in the combination, often in conversation with Shiroishi's horn. His playing is ornate but never flowery, expressive but never maudlin, sweet but never saccharine. He is that warmth we carry inside of us on those cold days.

Setsubun is the Japanese new year. February 2nd. Traditionally people celebrate by screaming in the streets, shooting off fireworks, making a collective ruckus to scare the demons of the year past away. If there aren't demons to shake off… you must be from a different timeline. So, here is something for you and something for your demons too. Something to keep you warm until Spring arrives. Something warm, familiar, friendly, but fresh and full of possibilities. Happy New Year.
Chris Jusell - violin

Chaz Prymek - bass, guitar, synthesizer, clarinet, field recordings

Matthew Sage - keyboards, percussion, radio, field recordings

Patrick Shiroishi - alto, tenor, and soprano saxophones, clarinet, glockenspiel, samples, voice



Photography by Chris Jusell
---

spoor - music for dogs









Music for Dogs is a duo composed of Gianni Andreatta and Cashin McCann. On Spoor, created remotely and partially through discord video sessions and during live streams, they move fluidly and almost indistinguishably between instruments and across styles, playing with woodwinds and brass just as playfully as they do with electronics and programming. There is a sense of companionship at the heart of this music; music that is meant to keep you (or a canine friend) trusty company. Music that feels familiar, but also a little strange in how it goes about being itself. Patiently attentive to being near you but daydreaming to pass the time. Like a dog who contentedly stares out of the gap in the curtains for hours as the geese pass overhead and joggers dawdle by.

Peppering minimal drum programming against jittery electronics and floating electroacoustic textures serves as a loose framework for Andreatta and McCann to flutter around with jazz-influenced solos and bubbly electronic notions shrouded in a foggy magnetic tape haze. This album feels like a dog park full of shaggy kindly strangers. Or a puddle of mushroom phalanges as they crawl across the shaded corners of a public grove on a soft breeze. A kind of genuine and worn warmth, a musty verisimilitude, a beatific kindness, a mysterious friendliness.

What we have here is a mutt; a beloved rescue dog of indeterminate origin that, despite being a little weird looking, only loves unconditionally and is curiously endearing.
Gianni Andreatta - trumpet, clarinet, electronics

Cashin McCann - bass clarinet, clarinet, piano, electronics


Visual elements by Music for Dogs and Matthew Sage
---



seymour - andreatta, raymond, sage








Gianni Andreatta, Zander Raymond, and Matthew Sage come together as a rare trio to create live and improvisatory tenderness and electronic felicity on "Seymour." The three, whose individual hands become almost undistinguishable in this formation, combine lush melodic impressions for guitar and synthesis nestled between nettlesome electro-acoustic textures and plinking digital utterances. Samples and guitar become arboreal architecture that air and light move through fluidly. Guided as much by chance operation as by intuition, these 15 motions present a specific and organic form of home-grown digital impressionism.



music and visual elements by Gianni Andreatta, Zander Raymond, and Matthew Sage
---
fuubutsushi - fuubutsushi







Fuubutsushi is the second entry into this now established series of CDs released on cached that features musicians collaborating through social distancing measures. Here, a quartet comes together while staying apart to miraculous ends, leaving space for memory to wander in a shimmery autumnal dappling. Chris Jusell (violin), Chaz Prymek (guitars, field recordings, voice), Matthew Sage (keyboards, percussion, voice, field recording), and Patrick Shiroishi (alto saxophone, clarinet, flute, glockenspiel, samples, whistling, voice) have collaborated on projects on and off in the last several years (some you may have heard, some yet to be released), but here, the four worked together as a singular unit in a playful and focused way. These compositions, a kind of wistful cool jazz diluted by ambient figures and new age hallmarks, could possibly be tucked into the "Post Rock" sector, but may actually be more aligned with ECM's school of playership. Through a combination of varied classical training and (here subdued) experimental tendencies, a harmony is achieved wherein melody is itself a texture to play with. In their solo work, some of these players wander in much more cerebral, jarring, psychedelic, unconventional airs, but on Fuubutsushi, they present as a tightly connected quartet prepared to woo listeners with these honeyed impressionistic strains. Songs are structured around muted piano parts from Sage that he augmented with percussion and occasional synthesizer flourishes. Flutters of reeds and winds from Shiroishi paint the scenes with nostalgic tenderness and vibrancy. Prymek's nimble guitar figures add longing and character, texture and dynamism. Jusell's violins drift about in emotive drafts and eddies of harmony, darting into lyrical spurts at opportune moments. There is a restraint and a mutual leaning-back that these players offer one another on these songs, and so, they all have their space to stretch out, to incorporate emptiness into their parts, to smile at one another warmly in those spaces. With such hospitality and kindness for each other, the music feels as much like an unexpected and joyful crossing of paths as it does a kindred reunion at a remembered crossroads.

The term Fuubutsushi, or 風物詩 in kanji, is a kind of seasonal nostalgia. A longing for the approaching season upon its first sign. That moment in late summer when you can sense autumn is approaching -- maybe it is that cool night bitten by the scent of frost and wood smoke, or the soft rotting leaves in a warm beam of morning light -- and so you anticipate that approaching autumn using past autumns as a frame of reference. "That new old feeling again." This is a music of looking forward and looking back simultaneously. Both nostalgic and hopeful, wistful and realistic. Apart from their respective bodies of work or other collaborations, consider this album a singular offering from this quartet that is, as each season that passes, unique, however familiar it feels.

Chris Jusell - violin

Chaz Prymek - guitars, field recordings, voice

Matthew Sage - keyboards, percussion, voice, field recordings

Patrick Shiroishi - alto & tenor saxophones, clarinet, flute, glockenspiel, samples, whistling, voice

additional vocals on "Chorus Wheel" by Matt Crook and Anna Wilson

recorded in Arizona, California, Illinois, and Missouri in late summer of 2020

photographs by Chaz Prymek
---
birthmark - baugh & sage





During the first stretch of social distancing, Frank Baugh (Sparkling Wide Pressure) and Matthew Sage produced Birthmark, an uncanny pastoral gothic transmission of smeared melodies and interstitial rumblings. Created through a process of correspondence and layering, the album feels like an amassing of history like sedimentary soils, a disrupting of that history like a landslide or a well digging, a feeding back the past into the present, tainted water desalinating as it passes through a layer of carbon coal and computer chips. Flickers of banjo and guitar are overgrown with radio chattering brush and debris, birds and boys whistling in harmony, voices ping in the static, bouncing between rhythmic loops and clattering signals like lost friends. Terrible and awesome walls of distortion peel through the valleys, leaving behind leveled rumination, a few screens sprayed with static, and only those few trees left with deep wide true roots.
Frank Baugh:
samples, synthesizer, bass, guitar, banjo
whistle, voice, percussion

Matthew Sage:
synthesizer, autoharp, organ, guitar, percussion,
banjo, field recordings, voice, radio
recorded in Illinois and Tennessee in 2020


visual elements by Danny Greene and Frank Baugh
---