---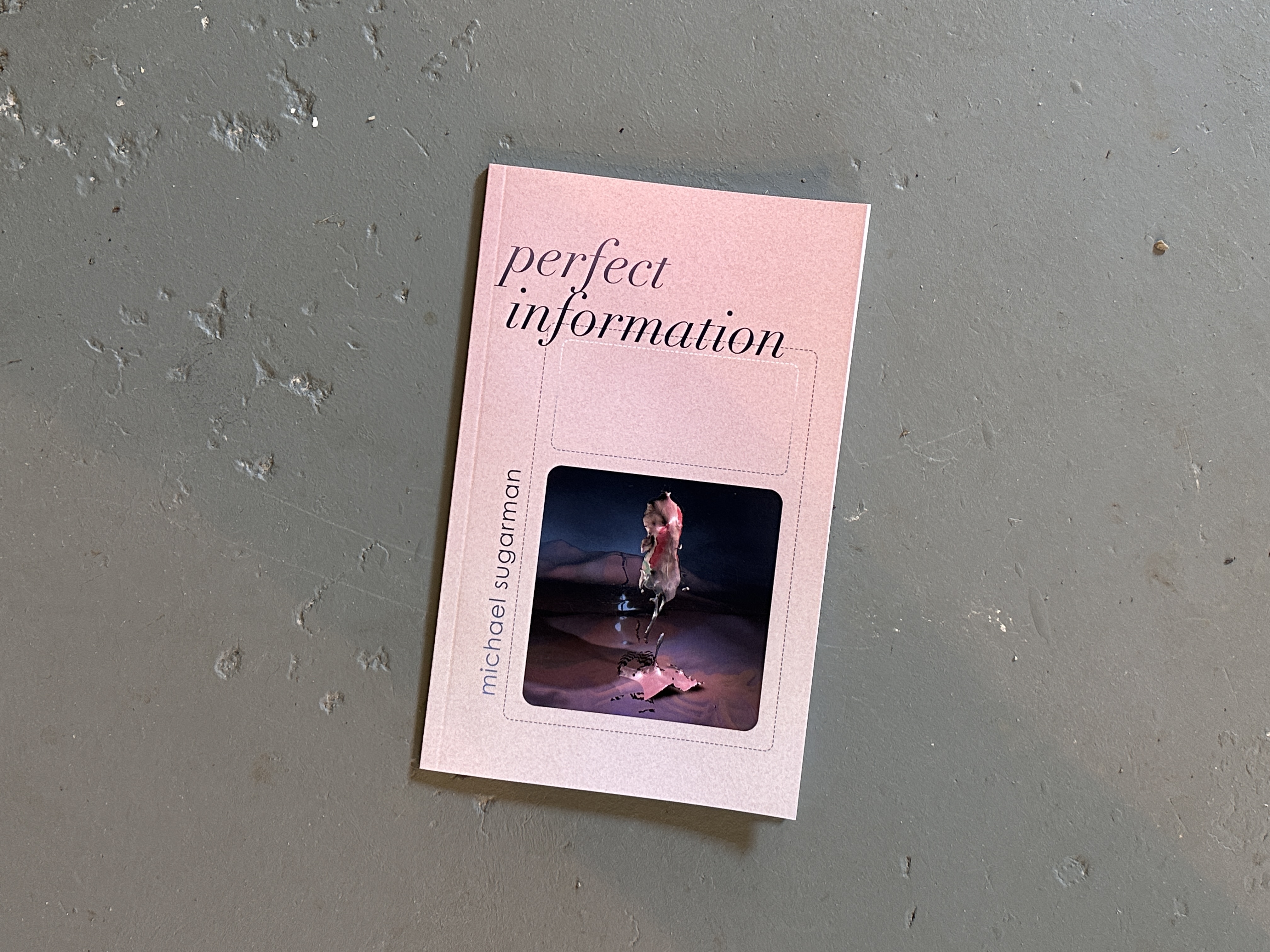 Perfect Information


An audio/novella by Michael Sugarman





---
Blink and become anyone.


Michael Sugarman's debut novella databends together geopolitical reality-sickness, cosmetic surgery addiction, artificial intelligence dread, and body horror sci-fi into a dizzying, poignant, and darkly hilarious fiction. Centered on Georgie, a non-binary influencer, but spiraling out into a circuitous network of characters scattered across the fleshy digital underbelly, Perfect Information reads like a digital pop-culture rupture. Everything is sprayed by the metric ejecta. Juicy, insightful, bizarre, strange, pleasurable, dreadful; readers can follow, like, and subscribe to any modality as these characters skinwalk and shapeshift through the pixelated landscape.

The novella's text was written in 2020-2021 and are highly reflective of the global atmosphere of those curious months and years; the audio portions were recorded in 2022 and solidify this intermedia novella as a cross-platform experience that is both reflective and speculative.

Channeling predecessors like Thomas Pynchon – with some characters that seem to be more skins than actual people with agency – and William Gibson – the notorious father of "cyber" novels – and RA Lafferty – whose complex story structures feel more like ribbons of intricate circuitry than traditional fiction – Sugarman's voice is familiar in this strange and conspiratorial realm, and yet it is distinctive, and one of its key features is its amorphous nature. The truth of this narrative slips like glitchy sand between reader's fingers. Vivid imagery and post-internet pop culture lexicon flood this algorithmic system of strangely charming avatars as they seek to resolve the quest to find, to post, and to become Perfect Information.

The 50 page novella is accompanied by a digital audio program featuring original music by Sugarman backgrounding a cast of voices – including MC Schmidt of Matmos and Natalie Chami (TALsounds) – narrating the story. Gurgling icy textures, wormy blops, digital choirs, and billowing Vangelis pads swell, splatter, and shade the story with a nervous, feverish atmosphere.


Available in an edition of 100 softcover books with a two-sided postcard and download code.



---

Contributors and Biographical information:


Michael Sugarman is a writer, musician, and artist living in Providence, RI.

Perfect Information is the first piece of fiction he has published under his own name.

He has been actively involved in electronic and experimental music sine 2009, releasing music on labels like Hausu Mountain and Dreamtone, playing in the band Organsm, and organizing shows in New York and Chicago.

That involvement led him to launch the Groove Café project in 2017, focused on building a sustainable documentation resource for building safe and vibrant DIY scenes.

At his day job (the Initiative for Digital Public Infrastructure at UMass Amherst), he is developing a (hopefully) non-commercial platform for community-driven music discovery called Freq and produces the lab podcast "Reimagining the Internet."




Sabrina Ratté, a Canadian artist based in Montreal, explores the diverse forms of digital imagery. Her artistic practice encompasses a wide array of mediums, including analog video, 3D animation, photography, printmaking, sculpture, virtual reality, and installation. By continuously incorporating new techniques into her work, she delves into recurring themes that include the influence of architecture and the digital environment on our perception of the world, our relationship with the virtual aspects of existence, and the convergence of technology and the natural world




M.C. Schmidt is proud of his work with Matmos, especially our new album with Smithsonian Folkways and of his work with the High Zero Foundation in Baltimore celebrating presenting experimental improvised music for 25 years this year!




David Brown is an actor and comedian in Los Angeles. You can see him most recently as Todd in Jury Duty on Amazon Prime




Marty McConnell is a poet based in Chicago. Her 2018 collection "when they say you can't go home again, what they mean is you were never there" won the 2017 Michael Waters Poetry Prize





Natalie Chami is musician and educator who performs as TALsounds. Her third LP Shift comes out November 3rd on NNA Tapes, following previous albums released on Hausu Mountain, Ba Da Bing!, Moog's in-house imprint, and Tabs Out. She is a founding member of the trio Good Willsmith.
Wyatt Fair has been featured on Adult Swim with his sketch comedy group The Shrimp Boys, opened for Sarah Squirm, and writes for The Hard Times




Alex Tatarsky makes performances in the unfortunate in-between zone of comedy, performance art, dance-theater and deluded rant — sometimes with songs. Their latest piece Sad Boys in Harpy Land is a falling apart gesamtkunstwerk, as told by a young Jewish woman who thinks she is a little German boy who thinks he is a tree in hell. It will be at Playwrights Horizons November 2023




Isabella "Izzy" Gerasole is an actor, comedian, and James Beard Award Winner (2006 Best Webcast). Los Angeles credits include being crowned the winner of the "Pansexual Bachelor" (Elysian Theater), and being a featured performer in Funny or Die's 2022 Lab (Dynasty Typewriter). Last fall, her original musical "She's Loud, He's Quiet!" debuted at the inaugural Forget About Spaghetti Festival (Elysian Theater). You can see her performing standup all over the city.




Max Saltarelli is a writer based in Los Angeles. His television credits include MAGGIE (Hulu), GENERA+ION (HBO Max) and LIFE IN PIECES (CBS). He is also a professional musical whistler and a founder of the music collective, mmarz




Nina Wexelblatt is an art historian and curator from Albuquerque, New Mexico. She has organized exhibitions at MASS MoCA, MCA Chicago, and the Yale University Art Gallery. She co-edited Thresholds 49: Supply (MIT Press Journals) and is presently a pre-doctoral fellow at the Getty Research Institute in Los Angeles.


Matthew Sage is an artist and educator living on the Colorado Front Range.