SHOP
all prices include US shipping (intl shipping added at check out)
all orders include stickers +/or pins and other ephemera
---
NEW RELEASES

---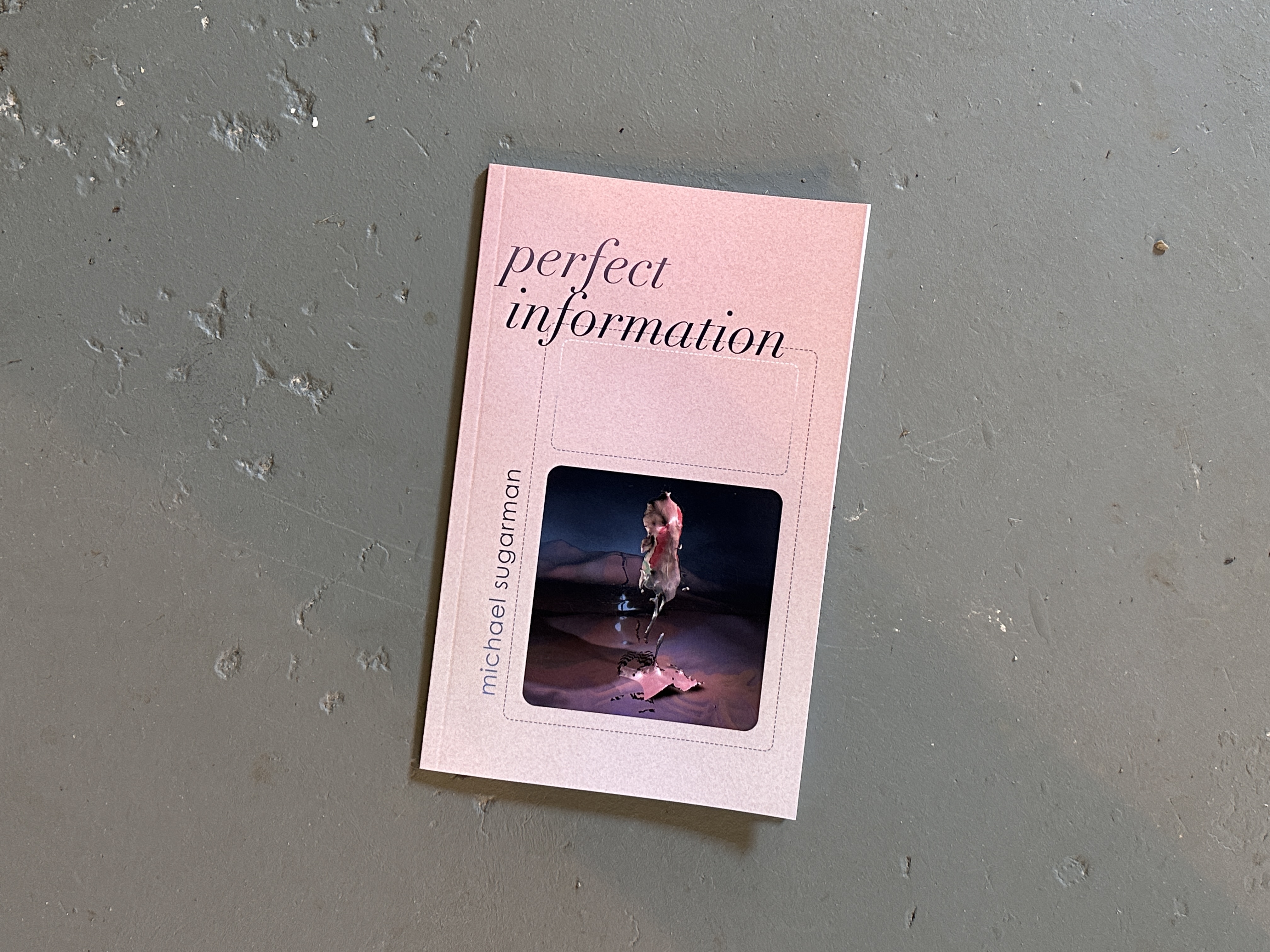 PERFECT INFORMATION
- novella and digital audio program by Michael Sugarman
50 page softcover booklet
2-sided full color postcard
Narrated audio program download
Instrumental audio program download
Michael Sugarman's debut novella databends together geopolitical reality-sickness, cosmetic surgery addiction, artificial intelligence dread, and body horror sci-fi into a dizzying, poignant, and darkly hilarious fiction. Centered on Georgie, a non-binary influencer, but spiraling out into a circuitous network of characters scattered across the fleshy digital underbelly, Perfect Information reads like a digital pop-culture rupture. Everything is sprayed by the metric ejecta. Juicy, insightful, bizarre, strange, pleasurable, dreadful; readers can follow, like, and subscribe to any modality as these characters skinwalk and shapeshift through the pixelated landscape.

The novella's text was written in 2020-2021 and are highly reflective of the global atmosphere of those curious months and years; the audio portions were recorded in 2022 and solidify this intermedia novella as a cross-platform experience that is both reflective and speculative.


Channeling predecessors like Thomas Pynchon – with some characters that seem to be more skins than actual people with agency – and William Gibson – the notorious father of "cyber" novels – and RA Lafferty – whose complex story structures feel more like ribbons of intricate circuitry than traditional fiction – Sugarman's voice is familiar in this strange and conspiratorial realm, and yet it is distinctive, and one of its key features is its amorphous nature. The truth of this narrative slips like glitchy sand between reader's fingers. Vivid imagery and post-internet pop culture lexicon flood this algorithmic system of strangely charming avatars as they seek to resolve the quest to find, to post, and to become Perfect Information.


The 50 page novella is accompanied by a digital audio program featuring original music by Sugarman backgrounding a cast of voices – including MC Schmidt of Matmos and Natalie Chami (TALsounds) – narrating the story. Gurgling icy textures, wormy blops, digital choirs, and billowing Vangelis pads swell, splatter, and shade the story with a nervous, feverish atmosphere.



Available in an edition of 100 softcover books with a two-sided postcard and download code.

Cover illustration by Sabrina Ratté
Postcard design by Matthew Sage
Book layout and design by Matthew Sage for Cached Media

more information (perfect and imperfect) here

---

PAST RELEASES
---
---
RELAY
- cassette by Booker Stardrum & Chris Williams
Clear cassette w/ gold A side imprint
Clear norelco box
Full color Ocard
Chris Williams and Booker Stardrum are prominent figures in the free music communities they've run in for years now. Stardrum, a percussionist, and Williams, a trumpeter, both swirl in the eddies of the burgeoning fourth world free electronics jazz community. On Relay, two side-long pieces, the duo hash through an icy and diffused collection of jittery motifs, splotchy melodies, muffled notions, and passing drifts. Both artists move between lyrically curious melodies and phrasings and extended technique textural foragings. Williams' horn gurgles like a sloshed stomach in places, and then, accompanied by looped cycles of Stardrum's toothy sampling, melodic fragments, and distant bells, Williams suddenly soars sonorous. The album is uneasy in the corners and yet these wound-up moments reveal a kind of harmonious transparency. Moments of stillness collapse into chasmal and meditative micro-percussion, bells and static, and timbral whispers. Williams' trumpet skips like a stone over Stardrum's frozen pond. This album is Cached's first foray in the cassette format in order to best retain the structure and composition, the two-sidedness, of this album. Two performances by this duo of players exploring music that is written on space and swept across time; traversing every dimensional axis.
---
PRISM - jewel case CD by Powers / Pulice / Rolin
Compact Disc
Full color print in clear jewel case
Download code
Prism is a special collaboration for Cached between Jen Powers, Matthew Rolin, and Cole Pulice. Across four tracks, the trio soars through their own cosmic blend of Atomic Americana. Prior to this collaboration, Jen Powers and Matthew Rolin, based in rural Ohio, have created space across several intersections of DIY music communities with their American Pastoral trance music. Rolin is a deft guitar player with a sound as expressive as it is skillful; Powers' dulcimer playing is transcendent and hypnotic. Between applying their craft to more experimental and borderline-free-jazz worlds, as well as with troubadours like Bonnie "Prince" Billy, Powers and Rolin work keeps an air of far-out approachability. Across their bevy of collaborations, the two bring a honed-in and earth-oriented sensibility while presenting music that is undeniably galactic: blasted, even when it's soft; Appalachian Trance. Cole Pulice, an electroacoustic woodwind player and composer based in Oakland, California, creates lush and vibrant music, using live signal processing of their saxophone to slip into otherworldly surrealist dreamscapes. Pulice's recent solo albums and collaborations elegantly plumb this post-new-age ambient jazz paradigm that Cached seems to keep rolling in. On Prism, Rolin's guitar soars in places and gently lilts in others, a fingerstyle player more aligned with an experimental or abstracted and free approach. Pulice flutters between blistering solos and temperate swooning, punctuating their otherwise sweet, lyrical, aromatic, and nectarous tone. Powers' rippling dulcimer chimes give Prism an enormous resonant space; her buoyant arpeggiations become the melodic air through which Rolin and Pulice tumble and drift. This is spectral and voluminous music. Full of space, full of power, protons and neutrons - simultaneously macro and micro in scope. Undeniably pastoral, the album feels attuned to nature's beaming ultraviolets, pollen bursts, sienna-colored skies. Dazzling Cascades of horn, guitars and dulcimer draw the iris into a world of sound caught inside a beam of scattered light.

---

RADIAL - digipack CD by Glassine & Sam Haberman

Compact Disc
Full Color Digipak
Download Code
Sam Haberman plays drums in the critically acclaimed group Horse Lords. Glassine is the name under which Danny Greenwald makes musical work (like "No Stairway" the cassette he made with Patient Sounds where all his sound sources were collected at Guitar Centers). Radial is a warm shared space created by these two artists; these 8 songs feel more like motifs or notions than "songs." This is to say, their structure isn't classical, but rather profoundly human. Melodies and timbres emerge from silence and exude an embracing depth and curiosity. Haberman captured field recordings from his life, often at different playgrounds with his 3-year-old son. He also recorded sounds from his basement on a cassette tape machine – his process as much about learning how to operate the machine as the actual act of recording. He then gave those recordings to Glassine to sample, arrange, weave, and treat. The artists collaborated and layered further in the studio together. The resulting music is textural, patient, tender, playful, at times quiet, but often spacious and hospitable. There is an autobiographical quality to the work that, without requiring explanation, feels earnest and diaristic. This is music as simple kindness and play that rewards with a genuine and enveloping sweetness that radiates outward in growing circles.
---
SINGS - digipack CD by Wind Tide
Compact Disc
Full Color Digipak
Download Code
The collective art practice of Gretchen Korsmo and Andrew Weathers is dubbed "Wind Tide." Wind Tide isn't a band, it isn't a studio and practice space (located in Littlefield, Texas), it is all of these things and perhaps more. A container for the duo to neatly collect their collaborative curiosities. On "Sings" they invited voices (both their own and others) into their primordial sound structures. Echoing their artistic practices, collage and reuse of scrap materials heralds a slightly damaged quality into their work, but that damage is championed as experience. Patina as a sign of any object's exposure to wisdom. And through intervention, new interactions with these worn things create a glittering nowness. There is a brightness to these songs, a radiant reflection catching light. Contact mic slurping, fluttering piano phrases, woozy guitar drawls, and electronic textures swirl into an alchemical choir, a bed of moss for things to pool in. Spoken and sung language from guest collaborators acts as means to supplant narrative, opera, hymn, poetry and babble into these charming and strange works/worlds/words.

---
RENEWAL - digipack CD by Tilth
Compact Disc
Full Color Digipak
Download Code
Tilth is the duo of Cody Yantis (c melody saxophone) and Nathan McLaughlin (sampler, modular synth, guitar). Straddling the canyons of new music, temperate free jazz, ambient electronic, and new age, Tilth has created their own distinctive sound. There is a persistence and reverence in these compositions that is embedded into both the playership and the deconstruction at the core of this duo's work; a kind of "one must destroy to rebuild" sensibility. Fragments of melody and texture are garbled, slivered, refracted, and vaporized by McLaughlin's electronic mechanisms; Yantis' horn becomes an ululating mystic voice lost in the digital thickets. This is a kind of folk music, and in its own way a digital folklore. For centuries artists have been responding to Nature through creative production, and here two artists use their tools and imaginations to create an echo of the world that is, however strange, the world itself renewing.

---
LOOM - digipack CD by Ned Milligan & John Atkinson
Compact Disc
Full Color Digipak
Download Code
Ned Milligan operates the Florabelle label and makes beautiful albums using field recordings, often of his favorite wind chimes. John Atkinson is a member of Aa (big A little A), and recently collaborated on a stellar album for AKP Recordings as part of the duo East Portal. On "Loom" Milligan offered Atkinson a collection of field recordings and collected sounds. Atkinson treated and arranged those sounds into a frosted patch of whispering grass and ice."Minimalism" could describe the sound, but inaccurately, or perhaps "soft glitch," but the profound warmth and depth of these compositions is what makes those generic tags feel onerous; birds craw and limbs sigh through enveloping pure tone electro-acoustic mystery/melodies. The air is bright and crisp and the wind softly baffles your ear while far clouds heavy coast with loom.

---
DATADISPLAY - intermedia booklet by Ang Frances Wilson
5"x8" books w/ Glossy full color cover
56 full color pages matte w/ handwritten entries by the artist
1.5" chrome badge with hand picked flower pressed by the artist
Plastic fly
3x5 full color matte print w/ stamp
Housed in a Frosted envelope


Datadisplay is a catalogue of digital concrete romantic abstractions by Ang Frances Wilson. Composed on the device that tethers us to one another, these smartphone revieries use GUI (graphic user interface), emojis, text and image to proffer a curious and delightful enquiry into romance, tenderness, color and form. Without feeling wholly referential, the GUI elements begin acquiring their own kinds of meaning, both in their asking for interaction and in their elegant and line-fraught visual vocabulary. A fly buzzes a menagerie of multicolored hearts. Petals are pixels, sometimes never wilting. Angels loom on the screen's thumbprint. Wilson's visions are wholly contemporary but timelessly wistful.

---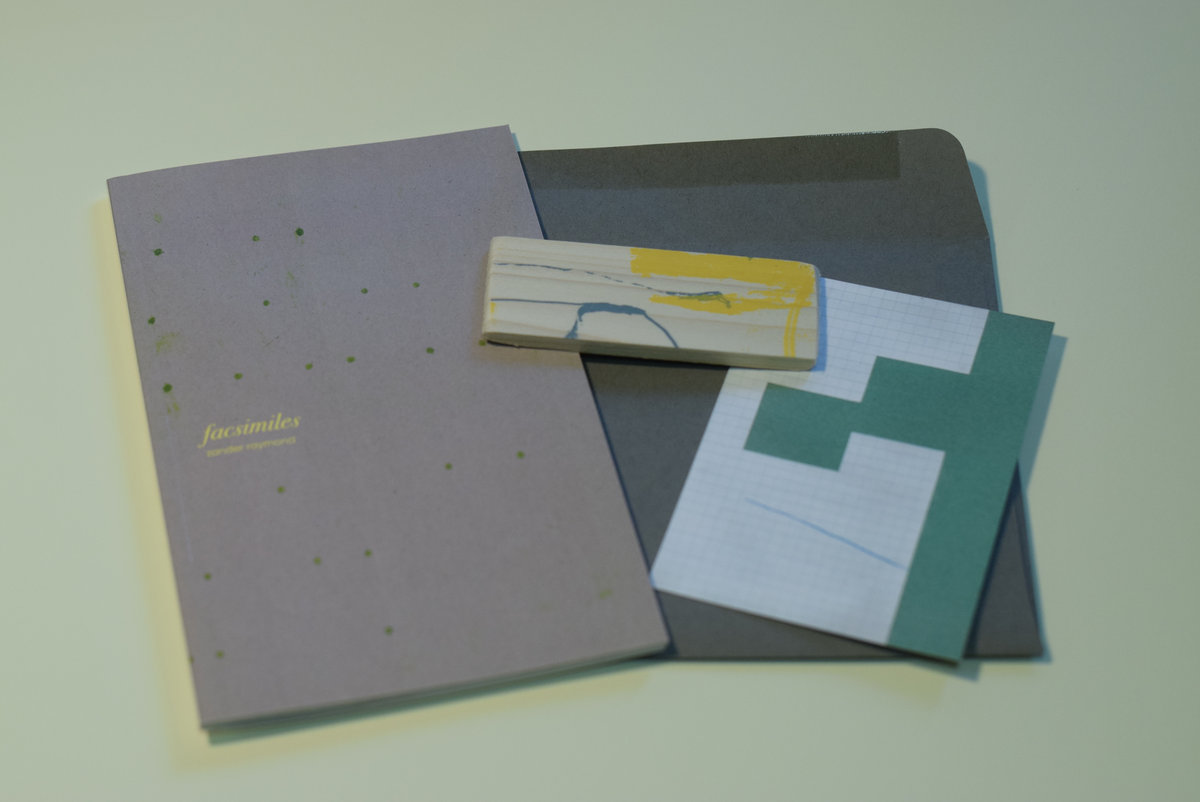 FACSIMILIES - intermedia booklet by Zander Raymond
5"x8" books w/ glossy full color cover
38 full color pages matte
4"x2" 3-color unique silk screen print on poplar slat
3x5 full color matte print w/ stamp
Housed in a carbon kraft envelope



The scattering colors and textures of the world on paper come together in a playful cadence in Zander Raymond's Facsimiles. Raymond is as much a collage artist as a curator of esoteric materials; the elegant curves of note cards' notched slots, the jaunty lining on an interoffice memo, these seemingly ordinary materials are seen, not for their utility, but for their own charming qualities.They don personalities here. Highly organized compositions are accompanied by playful interventions; letraset alphabets grow disjointed and become wordless music, scrawls of pen and graphite dance across the page, silk screen prints layer, define, refine, and confine colors, textures, surfaces. In considering these worthless things they become richer, they become realer than ever before, and printed here, they return to abstraction, their charms intact.

---
FUUBUTSUSHI 4-SEASON ICON - 2 variations on garments by Fuubutsushi
black cotton crew neck sweatshirt w/ silver print (sizing varies)
white cottong t-shirt w/ charcoal print (sizing varies)
Garments featuring the four-season Fuubutsushi icon. The black garment features a silver print, the white features a charcoal (black with soft metallic fleck). Printed by Bitmap Press in Chicago, Illinois on Gildan heavy weight garments.

SWEATSHIRTS
T-SHIRTS
---