SHOP
all prices include US shipping (intl shipping added at check out)
all orders include stickers +/or pins and other ephemera
---
SEASON 2 - FALL 2022 - CEREMONY
---
4 new titles for Fall 2022. The second portion of Season 2 features 4 new titles; all unique, all strangely cohesive. The unity of textures scattered on a trail.
These four albums find a collection of artists scattering and vibrating through texture, melody, composition, and sound as roving landscapes.
You can buy all 4 titles as limited bundles or individually below:
CEREMONY PULP BUNDLE
- 4 printed bandcamp download codes & US shipping
includes postcard, button, and stickers

RADIAL - digipack CD by Glassine & Sam Haberman

Compact Disc
Full Color Digipak
Download Code
Sam Haberman plays drums in the critically acclaimed group Horse Lords. Glassine is the name under which Danny Greenwald makes musical work (like "No Stairway" the cassette he made with Patient Sounds where all his sound sources were collected at Guitar Centers). Radial is a warm shared space created by these two artists; these 8 songs feel more like motifs or notions than "songs." This is to say, their structure isn't classical, but rather profoundly human. Melodies and timbres emerge from silence and exude an embracing depth and curiosity. Haberman captured field recordings from his life, often at different playgrounds with his 3-year-old son. He also recorded sounds from his basement on a cassette tape machine – his process as much about learning how to operate the machine as the actual act of recording. He then gave those recordings to Glassine to sample, arrange, weave, and treat. The artists collaborated and layered further in the studio together. The resulting music is textural, patient, tender, playful, at times quiet, but often spacious and hospitable. There is an autobiographical quality to the work that, without requiring explanation, feels earnest and diaristic. This is music as simple kindness and play that rewards with a genuine and enveloping sweetness that radiates outward in growing circles.
SINGS - digipack CD by Wind Tide
Compact Disc
Full Color Digipak
Download Code
The collective art practice of Gretchen Korsmo and Andrew Weathers is dubbed "Wind Tide." Wind Tide isn't a band, it isn't a studio and practice space (located in Littlefield, Texas), it is all of these things and perhaps more. A container for the duo to neatly collect their collaborative curiosities. On "Sings" they invited voices (both their own and others) into their primordial sound structures. Echoing their artistic practices, collage and reuse of scrap materials heralds a slightly damaged quality into their work, but that damage is championed as experience. Patina as a sign of any object's exposure to wisdom. And through intervention, new interactions with these worn things create a glittering nowness. There is a brightness to these songs, a radiant reflection catching light. Contact mic slurping, fluttering piano phrases, woozy guitar drawls, and electronic textures swirl into an alchemical choir, a bed of moss for things to pool in. Spoken and sung language from guest collaborators acts as means to supplant narrative, opera, hymn, poetry and babble into these charming and strange works/worlds/words.

RENEWAL - digipack CD by Tilth
Compact Disc
Full Color Digipak
Download Code
Tilth is the duo of Cody Yantis (c melody saxophone) and Nathan McLaughlin (sampler, modular synth, guitar). Straddling the canyons of new music, temperate free jazz, ambient electronic, and new age, Tilth has created their own distinctive sound. There is a persistence and reverence in these compositions that is embedded into both the playership and the deconstruction at the core of this duo's work; a kind of "one must destroy to rebuild" sensibility. Fragments of melody and texture are garbled, slivered, refracted, and vaporized by McLaughlin's electronic mechanisms; Yantis' horn becomes an ululating mystic voice lost in the digital thickets. This is a kind of folk music, and in its own way a digital folklore. For centuries artists have been responding to Nature through creative production, and here two artists use their tools and imaginations to create an echo of the world that is, however strange, the world itself renewing.

LOOM - digipack CD by Ned Milligan & John Atkinson
Compact Disc
Full Color Digipak
Download Code
Ned Milligan operates the Florabelle label and makes beautiful albums using field recordings, often of his favorite wind chimes. John Atkinson is a member of Aa (big A little A), and recently collaborated on a stellar album for AKP Recordings as part of the duo East Portal. On "Loom" Milligan offered Atkinson a collection of field recordings and collected sounds. Atkinson treated and arranged those sounds into a frosted patch of whispering grass and ice."Minimalism" could describe the sound, but inaccurately, or perhaps "soft glitch," but the profound warmth and depth of these compositions is what makes those generic tags feel onerous; birds craw and limbs sigh through enveloping pure tone electro-acoustic mystery/melodies. The air is bright and crisp and the wind softly baffles your ear while far clouds heavy coast with loom.

---
LISTING - season 1 - tote bag
heavy weight cotton tote bag
white screenprint
A very short edition of green totes featuring the "listing season 1" print. A bag to hold a song that is a map that is a booklet... anything carried in this bag becomes itself.

Price includes US shipping.
---
RIDING FENCES - cassette by Sage Martens
yellow cassette
pink and clear norelco box
two-color risograph jcard
download code
a title released by
Edições CN
being distributed stateside by Cached
Lieven Martens (Dolphins into the Future) and Matthew Sage (M. Sage, Fuubutsushi) come together on this cassette to tamper with Western tropes. Released in a beautiful edition with risograph jcard by Martens' own Edições CN, known for distributing sound works that function loosely as travelogues, field recording adventures, and abstract/deconstructed classical music. In equal ranch hands bizarre and beautiful, reverant and tongue-in-cheek, this album plays with and pokes at ideas of whatever Wild West is to two gents curious about sound's power to transport.


From Boomkat:
Martens' field recording practices have often led him to consider the relationship between man and the natural world, and here it's even more focused, juxtaposed with windswept Americana guitar riffs and lonesome muted piano. The most obvious comparison might be Eno collaborator Daniel Lanois, who experimented with ambient Americana on albums like 2005's stunning "Belladonna". But Sage and Martens don't imbue their compositions with grandeur or self-satisfied aesthetic fetishism, they use each sound as a cautious warning about the implications of the Western and "Western Living" in general. It's a sobering approach that leaves a bitter aftertaste.

US customers only (for EU/World copies shop
HERE
)
cassette includes bandcamp download code
price includes US shipping
---
NIMI - digipak CD by Andrew CS & Glia
Compact Disc
Full Color Digipak
Download Code
Glia (Virginia) and Andrew CS (Chicago) are two musicians who compose and create sound through potent clusterings; both melodically and rhythmically their individual works are built around a gathering of fragmentary grains of sound combined and creating unique and dynamic wholes. Musicians, like most artists, often leave their fingerprints behind. In electronic music, for a performer to become invisible, to leave no trace, leaves listeners to find sound purely, curiously, mercurially; Nimi is a showcase of electronic music where a world is built from kaleidoscopic sound surfaces seemingly devoid of human touch, but that human-shaped vacuum is an invitation for non-human dwelling. Textures and melodies jitter and smear into chemical blobs, microscopic details become portent. A fluttering sine wave cascades and crumbles, a stuttering drum patter dribbles in dry light. To be inhuman is, here, a grace, a lightness. Inhuman but not inhumane; rather the opposite. A rare gift to grant us meaty bags of bones non-corporeal listening for but a moment.

* note - "each of our tails" includes some samples by dueling ants

andrew cs: synths, samples, digital tape
glia: sampler, drums, arrangement

omar akrouche: mastering

---
QUALIA - digipak CD by Dan Derks & Zander Raymond
Compact Disc
Full Color Digipak
Download Code
Dan Derks (New York) and Zander Raymond (Chicago) here represent a school of musical composers who use a set of tools (monome norns, modular synth) balancing delicacy and chance. Recorded together in rural New York, their improvisations were cataloged and compressed into Qualia. The album is charming and mysterious; wandering through a wooded hillside, one stumbles across a shelter made from branches left behind by dwellers who are now long gone; arranged with care, the shelter is both of purpose – to protect one from the elements – but also elegant, aesthetic, and enigmatic in its methodology and function. The craft present in these humble electronic murmurings provides them a haiku-like simplicity/profundity. Every notion feels integral, and every detail feels considered, but there is a transcendent lightness here that comes from two collaborators who fundamentally understand that sometimes less can be more, and often, the sweetest moments happen in a kind of tender grass-licked repose.


recorded on an august afternoon in delhi, ny 2021

dan derks: monome norns, arranging
zander raymond: modular synthesizer, monome norns, field recordings




---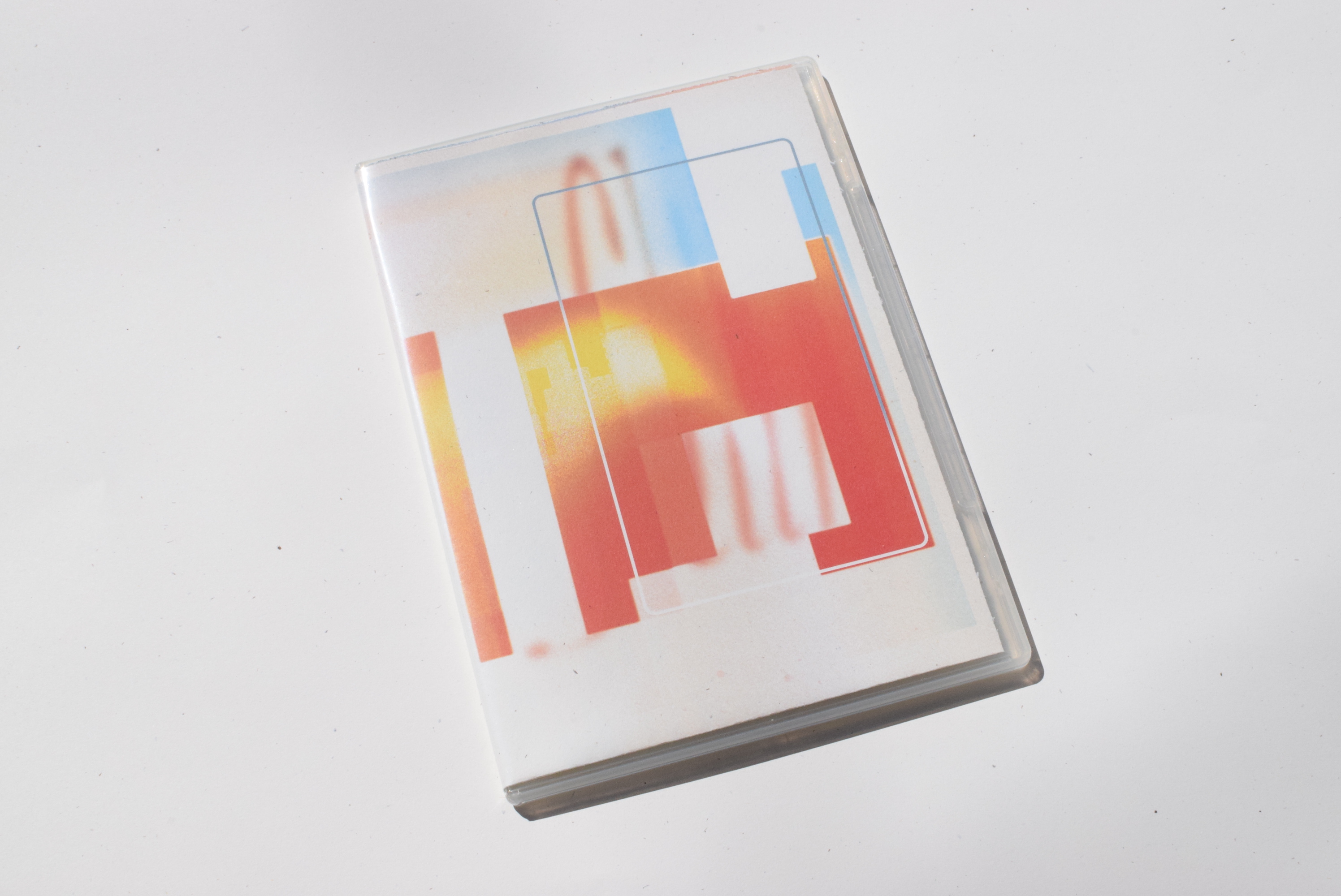 FLITR - non-functioning tangible/digital by Various Artists
Slimline DVD Case
CD-r (blank!)
Two-sided Full Color Insert
Digital Content
Flitr is a research initiative by cached.media:

This project seeks to explore the fleeting and immaterial nature of music and the mounting and tangible confusion of consumer sound objects as they disintegrate into a hypothetical cultural obsolescence.

Recorded sound is a relatively recent invention; before recorded sound music only existed once, in the air, as it moved through time and space. historically, music cannot be held forever on any medium; it's elusive, it's fleeting.

Flitr began as a collection of curated samples, a "data set," provided to artists in an open source fashion. With purchase of the non-functioning tangible you will receive this data set.

Flitr is, in one iteration, a digital musical compilation featuring 36 artists implementing those samples with the optional addition of including their own human voice(s). You will receive a download code corresponding to this digital musical compilation with purchase of the non-functioning tangible.

The physical manifestion of this release is a "non-functioning tangible." It is a trinket, a publication, a totem. It represents music, but it doesn't make any music. It just is... quasi-permanently, unlike the music it represents that disappears after it vibrates the air. This edition of objects is made by assemblage using entirely recycled, repurposed, and renewable materials.

---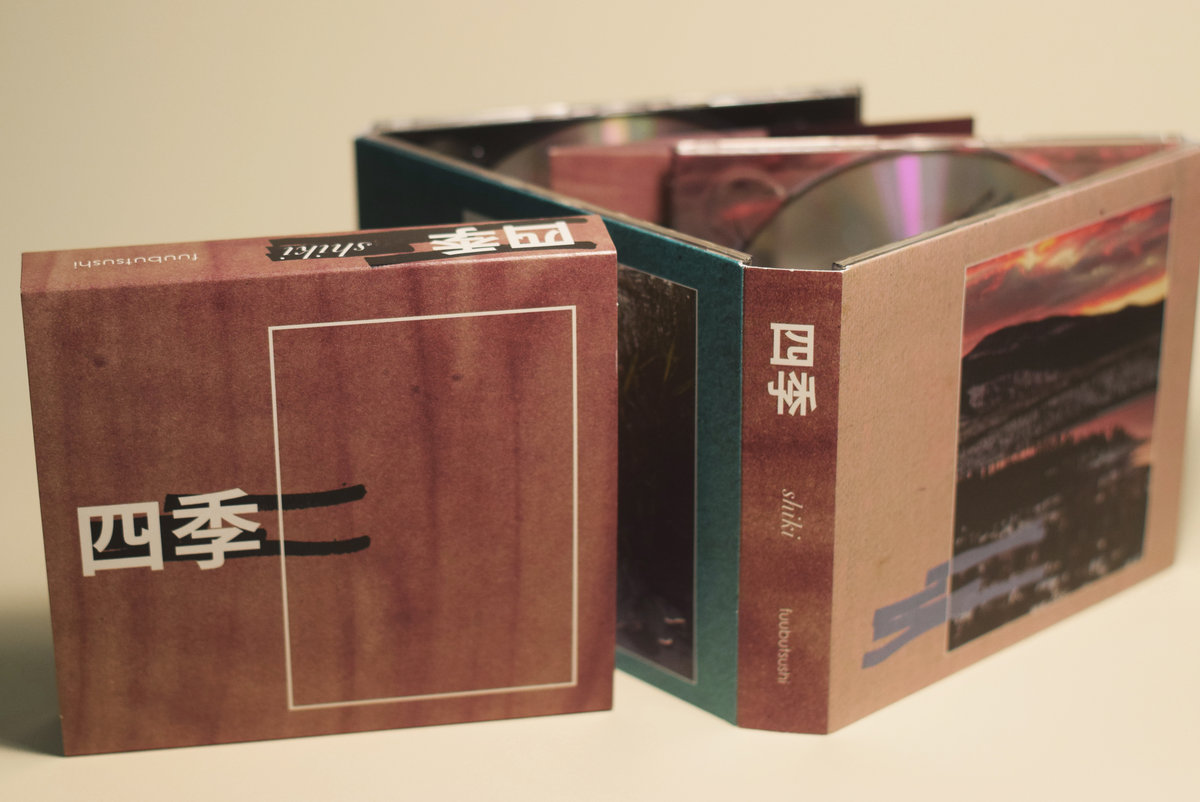 SHIKI - 4xCD Boxset by Fuubutsushi
4xCD
Color booklet
Accordion Digipak
O-card slipcase
A compendium physical/digital release that collects all four seasons/four albums by Fuubutsushi recorded 2020-2021. The physical edition includes 4 CDs in a fold-out digipak housed with a full color booklet in an O-card sleeve.

Combining many genres and elements, Fuubutsushi's catalog is one marked by playful and trusting exploration between four musicians; though each loosely assumes a role -- Jusell on violin, Prymek on guitars, Sage on percussion/keys, Shiroishi on woodwinds -- the group has, in their hallmark year of long-distance collaboration, established a free-form vocabulary. Borrowing idioms from ECM, cool jazz, ambient music, minimalism, city pop, post rock, folk, and Americana, this music thoughtfully roams across landscapes like a wandering cloud. At times it falls into valleys, at times in soars far above the surface, it falls and collects in puddles and lakes, it thaws and runs like rivers, it collects in snow banks and freezes solid.

After receiving critical acclaim and high demand, all four albums are now available in this handsome edition and download.

---
DATADISPLAY - intermedia booklet by Ang Frances Wilson
5"x8" books w/ Glossy full color cover
56 full color pages matte w/ handwritten entries by the artist
1.5" chrome badge with hand picked flower pressed by the artist
Plastic fly
3x5 full color matte print w/ stamp
Housed in a Frosted envelope


Datadisplay is a catalogue of digital concrete romantic abstractions by Ang Frances Wilson. Composed on the device that tethers us to one another, these smartphone revieries use GUI (graphic user interface), emojis, text and image to proffer a curious and delightful enquiry into romance, tenderness, color and form. Without feeling wholly referential, the GUI elements begin acquiring their own kinds of meaning, both in their asking for interaction and in their elegant and line-fraught visual vocabulary. A fly buzzes a menagerie of multicolored hearts. Petals are pixels, sometimes never wilting. Angels loom on the screen's thumbprint. Wilson's visions are wholly contemporary but timelessly wistful.

---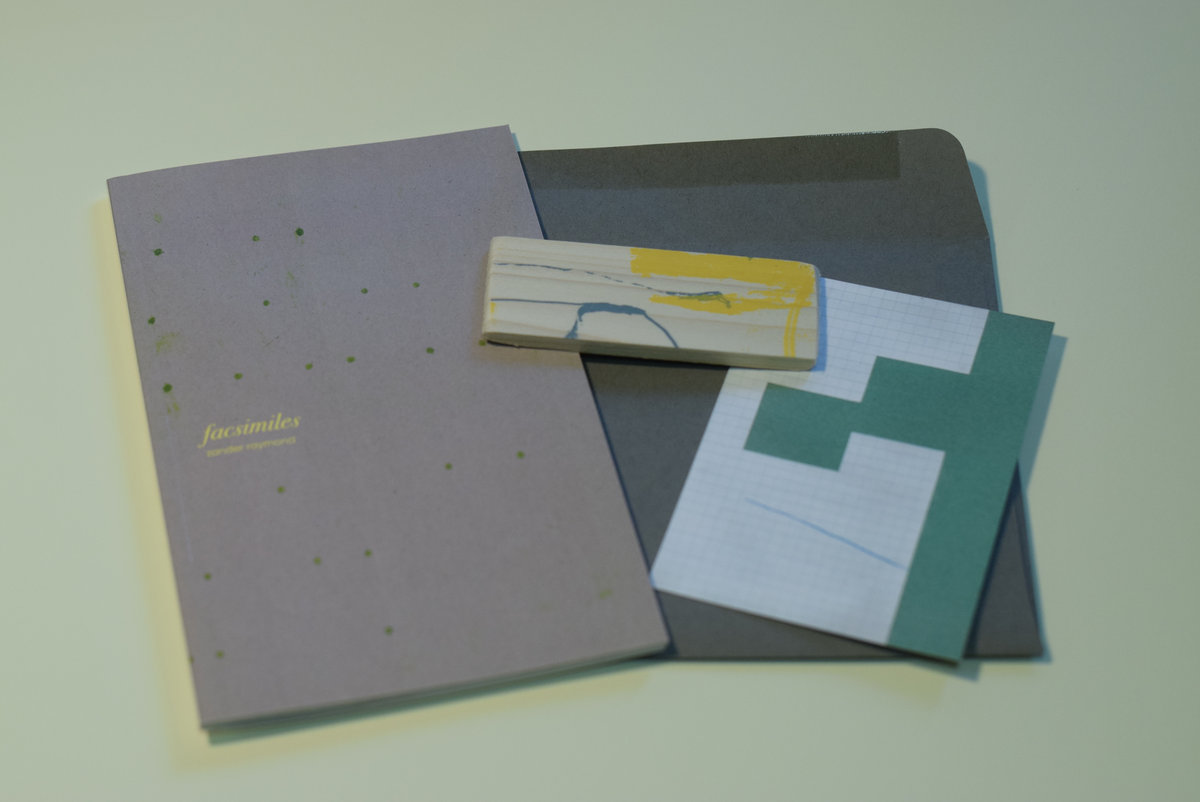 FACSIMILIES - intermedia booklet by Zander Raymond
5"x8" books w/ glossy full color cover
38 full color pages matte
4"x2" 3-color unique silk screen print on poplar slat
3x5 full color matte print w/ stamp
Housed in a carbon kraft envelope



The scattering colors and textures of the world on paper come together in a playful cadence in Zander Raymond's Facsimiles. Raymond is as much a collage artist as a curator of esoteric materials; the elegant curves of note cards' notched slots, the jaunty lining on an interoffice memo, these seemingly ordinary materials are seen, not for their utility, but for their own charming qualities.They don personalities here. Highly organized compositions are accompanied by playful interventions; letraset alphabets grow disjointed and become wordless music, scrawls of pen and graphite dance across the page, silk screen prints layer, define, refine, and confine colors, textures, surfaces. In considering these worthless things they become richer, they become realer than ever before, and printed here, they return to abstraction, their charms intact.

---
FUUBUTSUSHI 4-SEASON ICON - 2 variations on garments by Fuubutsushi
black cotton crew neck sweatshirt w/ silver print (sizing varies)
white cottong t-shirt w/ charcoal print (sizing varies)
Garments featuring the four-season Fuubutsushi icon. The black garment features a silver print, the white features a charcoal (black with soft metallic fleck). Printed by Bitmap Press in Chicago, Illinois on Gildan heavy weight garments.

SWEATSHIRTS
T-SHIRTS
---
©MMXXII
all intermedia herein published by cached.media