SHOP
all prices include US shipping (intl shipping added at check out)
all orders include stickers +/or pins and other ephemera
---
NIMI - digipak CD by Andrew CS & Glia
Compact Disc

Full Color Digipak

Download Code
Glia (Virginia) and Andrew CS (Chicago) are two musicians who compose and create sound through potent clusterings; both melodically and rhythmically their individual works are built around a gathering of fragmentary grains of sound combined and creating unique and dynamic wholes. Musicians, like most artists, often leave their fingerprints behind. In electronic music, for a performer to become invisible, to leave no trace, leaves listeners to find sound purely, curiously, mercurially; Nimi is a showcase of electronic music where a world is built from kaleidoscopic sound surfaces seemingly devoid of human touch, but that human-shaped vacuum is an invitation for non-human dwelling. Textures and melodies jitter and smear into chemical blobs, microscopic details become portent. A fluttering sine wave cascades and crumbles, a stuttering drum patter dribbles in dry light. To be inhuman is, here, a grace, a lightness. Inhuman but not inhumane; rather the opposite. A rare gift to grant us meaty bags of bones non-corporeal listening for but a moment.

* note - "each of our tails" includes some samples by dueling ants

andrew cs: synths, samples, digital tape
glia: sampler, drums, arrangement

omar akrouche: mastering

---
QUALIA - digipak CD by Dan Derks & Zander Raymond
Compact Disc

Full Color Digipak

Download Code

Dan Derks (New York) and Zander Raymond (Chicago) here represent a school of musical composers who use a set of tools (monome norns, modular synth) balancing delicacy and chance. Recorded together in rural New York, their improvisations were cataloged and compressed into Qualia. The album is charming and mysterious; wandering through a wooded hillside, one stumbles across a shelter made from branches left behind by dwellers who are now long gone; arranged with care, the shelter is both of purpose – to protect one from the elements – but also elegant, aesthetic, and enigmatic in its methodology and function. The craft present in these humble electronic murmurings provides them a haiku-like simplicity/profundity. Every notion feels integral, and every detail feels considered, but there is a transcendent lightness here that comes from two collaborators who fundamentally understand that sometimes less can be more, and often, the sweetest moments happen in a kind of tender grass-licked repose.


recorded on an august afternoon in delhi, ny 2021

dan derks: monome norns, arranging
zander raymond: modular synthesizer, monome norns, field recordings




---
HOMAGE - digipak CD by Natural Flavors

Natural Flavors is Charles Lander, Charlie Russell and Grainger Weston. Loosely arranged around keyboards, pianos, guitars, and synthesizers, this group gracefully balances on the wires between pastoral ambient new age and improvised new music jazz. With improvisation at the core of their approach, these players and these songs river and stream across one another sympathetically; they show a respectful awareness towards one another. The air sweet, the light piquant, the landscape savory; the collection is a proprioceptive sojourn where listeners are shuttled, not out of their bodies, but through them, into them, around them. After all, our meat is a generous terrain rippling with restrained electricity and sonorous melody. Ribs positioned elegantly along a fault line where a brainy butte juts up from a deciduous forest, where a guts lake lies buried under a craggy escarpment, where a leggy desert drifts off from the dry edges of a grass plain, these songs are a body and a compelling landscapes that invite roaming.

---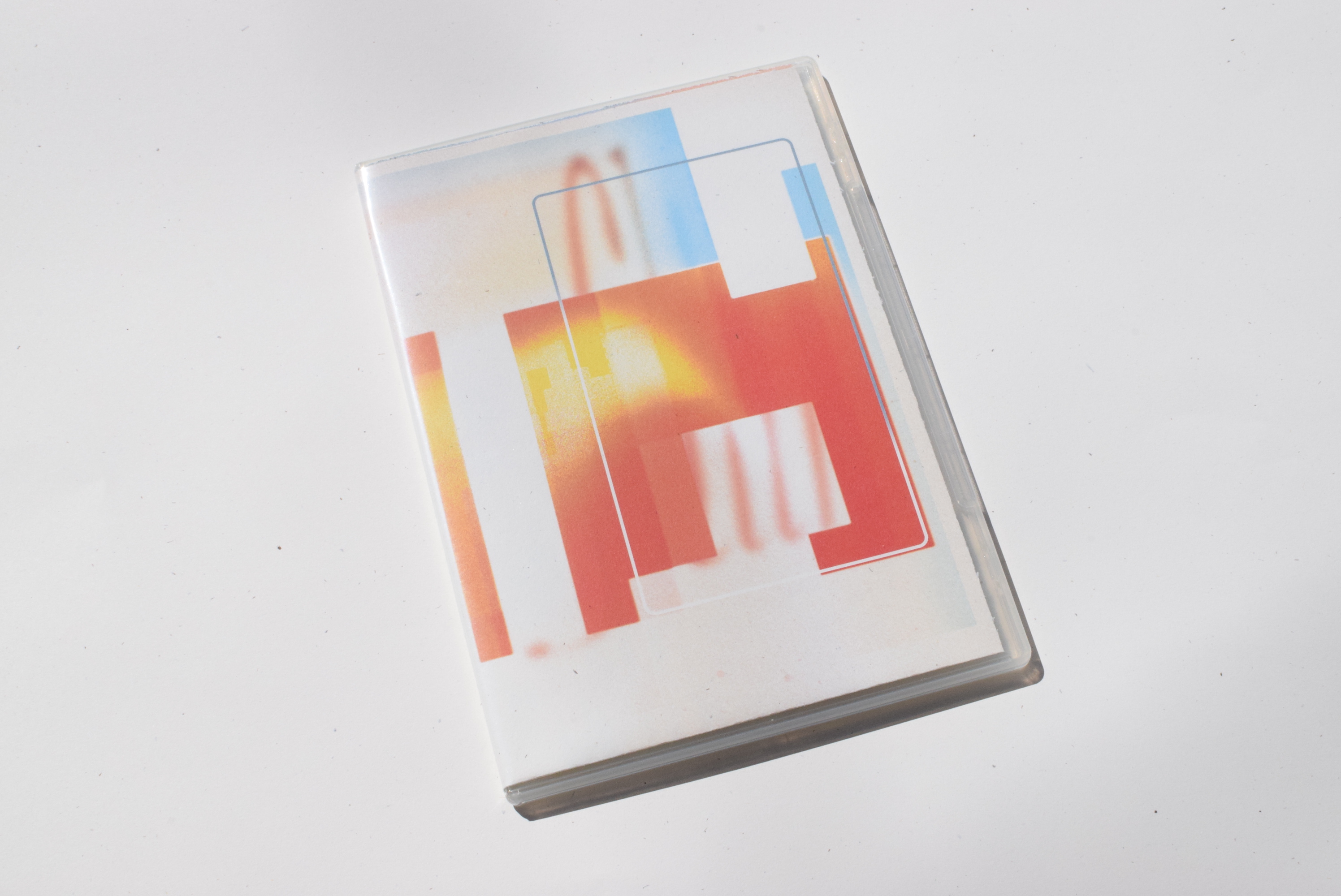 FLITR - non-functioning tangible/digital by Various Artists
Slimline DVD Case

CD-r (blank!)

Two-sided Full Color Insert

Digital Content

Flitr is a research initiative by cached.media:

This project seeks to explore the fleeting and immaterial nature of music and the mounting and tangible confusion of consumer sound objects as they disintegrate into a hypothetical cultural obsolescence.

Recorded sound is a relatively recent invention; before recorded sound music only existed once, in the air, as it moved through time and space. historically, music cannot be held forever on any medium; it's elusive, it's fleeting.

Flitr began as a collection of curated samples, a "data set," provided to artists in an open source fashion. With purchase of the non-functioning tangible you will receive this data set.

Flitr is, in one iteration, a digital musical compilation featuring 36 artists implementing those samples with the optional addition of including their own human voice(s). You will receive a download code corresponding to this digital musical compilation with purchase of the non-functioning tangible.

The physical manifestion of this release is a "non-functioning tangible." It is a trinket, a publication, a totem. It represents music, but it doesn't make any music. It just is... quasi-permanently, unlike the music it represents that disappears after it vibrates the air. This edition of objects is made by assemblage using entirely recycled, repurposed, and renewable materials.

---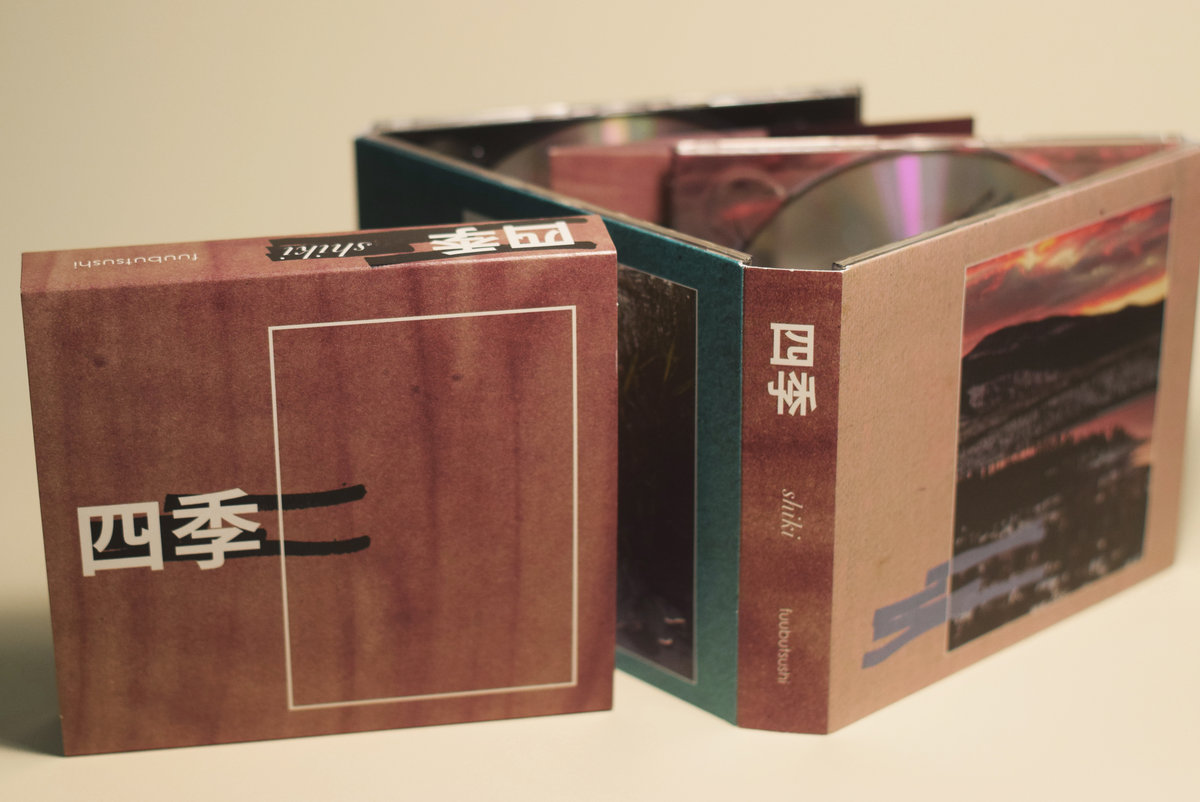 SHIKI - 4xCD Boxset by Fuubutsushi
4xCD

Color booklet

Accordion Digipak

O-card slipcase

A compendium physical/digital release that collects all four seasons/four albums by Fuubutsushi recorded 2020-2021. The physical edition includes 4 CDs in a fold-out digipak housed with a full color booklet in an O-card sleeve.

Combining many genres and elements, Fuubutsushi's catalog is one marked by playful and trusting exploration between four musicians; though each loosely assumes a role -- Jusell on violin, Prymek on guitars, Sage on percussion/keys, Shiroishi on woodwinds -- the group has, in their hallmark year of long-distance collaboration, established a free-form vocabulary. Borrowing idioms from ECM, cool jazz, ambient music, minimalism, city pop, post rock, folk, and Americana, this music thoughtfully roams across landscapes like a wandering cloud. At times it falls into valleys, at times in soars far above the surface, it falls and collects in puddles and lakes, it thaws and runs like rivers, it collects in snow banks and freezes solid.

After receiving critical acclaim and high demand, all four albums are now available in this handsome edition and download.

---
DATADISPLAY - intermedia booklet by Ang Frances Wilson
5"x8" books w/ Glossy full color cover
56 full color pages matte w/ handwritten entries by the artist
1.5" chrome badge with hand picked flower pressed by the artist
Plastic fly
3x5 full color matte print w/ stamp
Housed in a Frosted envelope



Datadisplay is a catalogue of digital concrete romantic abstractions by Ang Frances Wilson. Composed on the device that tethers us to one another, these smartphone revieries use GUI (graphic user interface), emojis, text and image to proffer a curious and delightful enquiry into romance, tenderness, color and form. Without feeling wholly referential, the GUI elements begin acquiring their own kinds of meaning, both in their asking for interaction and in their elegant and line-fraught visual vocabulary. A fly buzzes a menagerie of multicolored hearts. Petals are pixels, sometimes never wilting. Angels loom on the screen's thumbprint. Wilson's visions are wholly contemporary but timelessly wistful.

---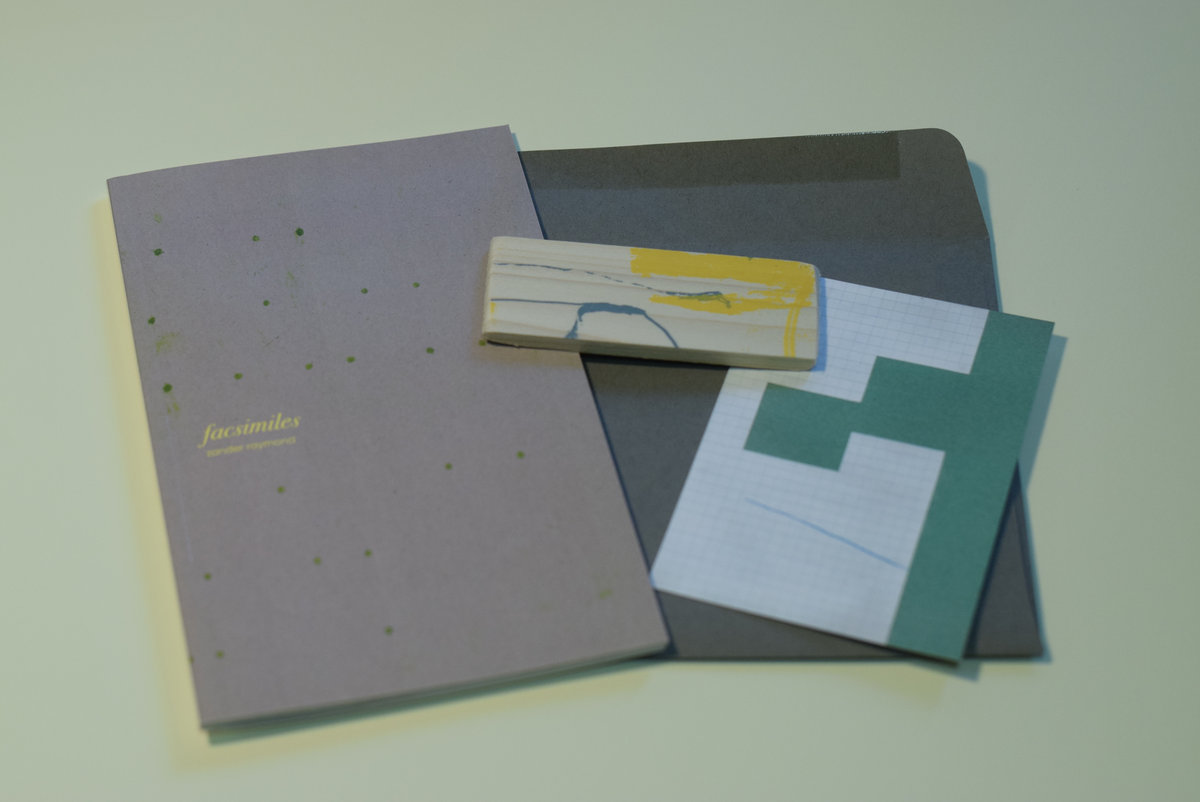 FACSIMILIES - intermedia booklet by Zander Raymond
5"x8" books w/ glossy full color cover
38 full color pages matte
4"x2" 3-color unique silk screen print on poplar slat
3x5 full color matte print w/ stamp
Housed in a carbon kraft envelope



The scattering colors and textures of the world on paper come together in a playful cadence in Zander Raymond's Facsimiles. Raymond is as much a collage artist as a curator of esoteric materials; the elegant curves of note cards' notched slots, the jaunty lining on an interoffice memo, these seemingly ordinary materials are seen, not for their utility, but for their own charming qualities.They don personalities here. Highly organized compositions are accompanied by playful interventions; letraset alphabets grow disjointed and become wordless music, scrawls of pen and graphite dance across the page, silk screen prints layer, define, refine, and confine colors, textures, surfaces. In considering these worthless things they become richer, they become realer than ever before, and printed here, they return to abstraction, their charms intact.

---
KEEP HONKING (aleatoric music) - bumper sticker by Prymek & Sage
11.5"x3" vinyl bumpersticker
A confirmation to the rest of the world that there is music to be heard anywhere, and an invitation for anyone paying attention to take a solo. Cached is 100% responsible for any and all transcedent aleatoric combinations that result from the world interacting with this sticker. A collaborative physical aphorism by Prymek & Sage

---
FUUBUTSUSHI 4-SEASON ICON - 2 variations on garments by Fuubutsushi
black cotton crew neck sweatshirt w/ silver print (sizing varies)

white cottong t-shirt w/ charcoal print (sizing varies)

Garments featuring the four-season Fuubutsushi icon. The black garment features a silver print, the white features a charcoal (black with soft metallic fleck). Printed by Perfectly Acceptable Press in Chicago, Illinois on Gildan heavy weight garments.

SWEATSHIRTS
T-SHIRTS
---
©MMXXII
all intermedia herein published by cached.media